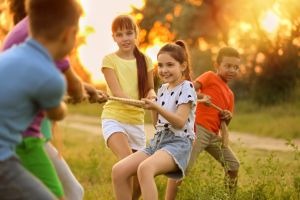 Daycare Insurance. Quality Coverage At Great Rates.
Are you running a day care in Spring, Conroe, Magnolia, Harris County, TX? If yes, you understand the immense responsibility that comes with taking care of children. It's crucial that your business is protected from potential risks, and that's where Chris Flanagan Insurance Agency comes in. With our comprehensive day care insurance, you can ensure that you, the kids, and your business are safeguarded.
If you require personalized advice, call us at 281-681-3684, or click here -

Why Do You Need Day Care Insurance?
The unpredictable nature of children means accidents can happen. From slips and falls to allergic reactions, many scenarios could end in a claim against your day care. With the right insurance, you're covered. Remember, it's not just about safeguarding your business but also about ensuring peace of mind for the parents who trust you with their children. To know more or to discuss your specific needs, don't hesitate to call us at 281-681-3684.
What Does Day Care Insurance Cover?
There are various claims that day care insurance can cover. Let's delve into some of the most common ones:
Physical Injuries
Be it a small scratch or a significant injury, insurance can cover medical expenses.
Medical Emergencies
Should a child need immediate medical attention, your policy can cover the costs.
Property Damage
If a child accidentally damages property, insurance can help with repair or replacement costs.
These are just a few of the claims that can be covered by day care insurance. There are other scenarios and additional coverage options that can be tailored to your specific needs. Get in touch with Chris Flanagan Insurance Agency at 281-681-3684 to explore all the options available.
Why Choose Chris Flanagan Insurance Agency for Your Day Care Insurance?
Chris Flanagan Insurance Agency has been serving the Spring, Conroe, Magnolia, Harris County, TX community for years. We understand the unique challenges and risks associated with running a day care. Our experienced team is dedicated to finding a policy that's right for you, ensuring you're covered from all angles.
Plus, our seamless claim process means that if something does go wrong, you'll have support every step of the way. You can always call us at 281-681-3684 for any questions or to start the claim process.
Ready to Secure Your Day Care?
Running a day care is a rewarding job, but it comes with its share of challenges. Don't let potential risks deter you. With Chris Flanagan Insurance Agency by your side, you can run your day care with confidence, knowing that you're protected. Talk to us today and find out how we can help. Reach out to 281-681-3684 or fill out our online quote request form.